On The Trails of The Glaciers
Sala Santa Rita – Via Montanara, Roma From February 25th until April 6th 2010
Exhibition
This exhibition makes a century-spanning comparison between historical and modern photographs of the Karakorum glaciers, sensitive indicators of the climatic changes our planet is undergoing. The images show the results of the first scientific and photographic expedition "On the Trails of the Glaciers", which took place in 2009 in the K2 mountains in Karakorum, marking the centenary of the Duca degli Abruzzi's expedition to these mountains. Accompanied by a team of researchers, Fabiano Ventura, the environmental photographer who initiated the project, followed the trails of the first explorer-photographers of the early 20th century, both to re-capture their images and to carry out scientific investigations. The exhibition aims to use the images' strong visual impact to focus greater attention on environmental problems, and hopes to stimulate public interest in issues related to climate change and the sustainability of our natural resources in general, most importantly water.
Catalogue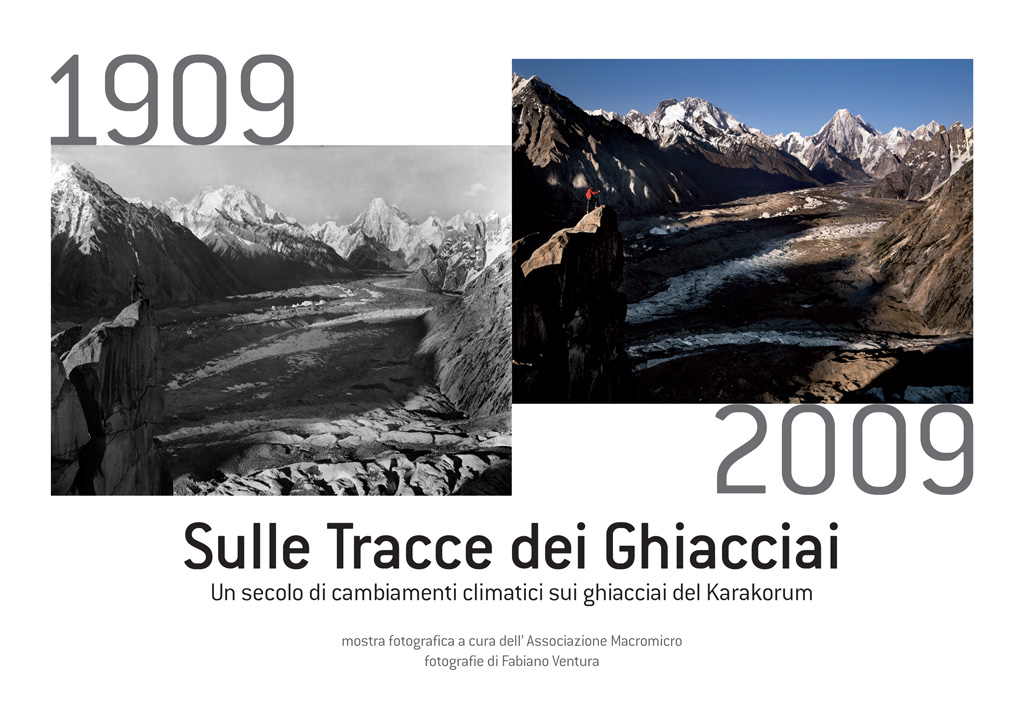 48 pagine formato 30×21 cm, con 6 panoramiche su doppia pagina, tutto a colori. Testi di Fabiano Ventura autore della mostra e ideatore del progetto, di Umberto Croppi, Assessore alle Politiche Culturali del Comune di Roma, di Claudio Smiraglia, Professore ordinario di geografia fisica all'Università degli Studi di Milano e Coordinatore del Comitato Scientifico del progetto "Sulle tracce dei ghiacciai" e di Kennet Hewitt, Professore alla Wilfrid Laurier University Waterloo Ontario, Canada.
Edito da Ass. Macromicro.
Prezzo di copertina: € 20,00
Per l'acquisto inviare un'email a info@macromicro.it
Backstage Photos